Holly & Ivy's 2018 wedding season has officially begun this year and what a beautiful one it was!
We first meet our Bride at the beginning of Autumn for a consultation at our workshop in Chalfont St Giles, Buckinghamshire. All she brought with her was a photo of a wedding bouquet she loved. Everything else she didn't really have an idea on and wanted our help and advice. So, we started with seasonal flowers and discussed the different styles she could have.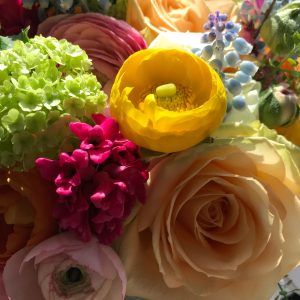 Our bride settled on a very bight informal mixed spring theme. For her and her Bridesmaids she had hand tied bouquets of Peach Avalanche roses for a focal flower surrounded by pink, yellow and orange ranunculus. Delicate grape hyacinths also known as Massari. Deep pink hyacinths, Cream narcissus, Pink broom, Green viburnum snowball (personal favourite!) and very pretty Thalspi green bells. All tied together in quite an informal design and not too arranged. Finished with ivory satin ribbon for the handle.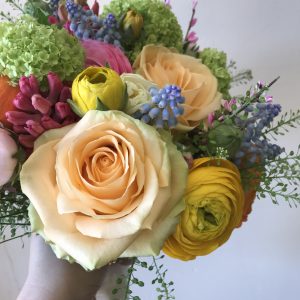 The Bride and Groom got married over in Marlow, Buckinghamshire and their wedding venue was The Court Garden House right in the park overlooking the river. You couldn't have had a nicer weekend, the sun was shining and all the guests were able to sit out on the veranda overlooking the river. Such a beautiful spot!
We had three very tall vases filled with flowers in-keeping with the wedding theme. One was placed on the sideboard in the entrance to The Court Garden house and the other two were place on tall white pedestal stands behind the registrar table. They would then be reused later to go behind the top table.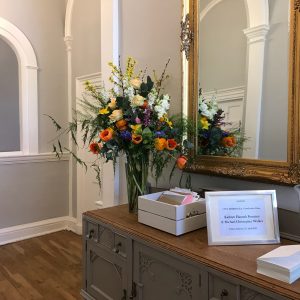 We made small vases up to be dotted around the venue so the theme could be carried on from room to room.
For the table centres we made each table slightly different with a focal spring flower theme. For example we had a tulip table and a Hyacinth Table.
Then last but not least we decorated the most scrummy looking 3 tired naked cake made by the very talented Sarah of The Canny Cake Company based in High Wycombe – It smelt divine! We made 3 individual arrangements to be placed on top of each tier down the front of the cake to give a cascade of vibrant spring flowers.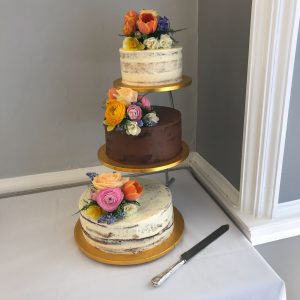 It was such an amazing wedding and a privilege to be the first of our wedding season. Working with such a vibrant sweet smelling mix was heaven and at such a gorgeous venue in Marlow. Congratulations to the new Mr & Mrs!
Shelley & The Holly & Ivy Team xxx